Camping Setup Tips Guide

You've chosen the best campground to visit but are you prepared to setup camp? Before heading off onto the open road, take a look at some essential camping tips and suggestions for campsite setup.
Learn the basics of camping. including, choosing the best campsite spot to set up your tent, campsite setup, campfire safety, camp cooking and and campsite pack up.
Tent Setup
Once you've found your perfect campsite spot, choose a place for tent setup – ideally on high, level ground with a view and some shade:
Unpack your tent pegs/stakes and mallet so you can set up your tent before any other unpacking.
Decide where you want to set up your tent – watch for rocks or animal burrows.
Position your tent door where you want it before you start setting pegs or poles.
Once your tent is up, arrange your sleeping gear and essentials inside.
Consider stringing up a tarp between trees over your tent for protection from shade and rain.
Basic Campsite Setup
You'll want to set up an area for campsite cooking and an area for socializing – plan your outdoor kitchen and living room:
Move your picnic table to a good campsite spot.
Place your lantern on the table or find a convenient spot to hang it before it gets dark.
Set up your camping chairs – a good place is around the campfire pit.
Store firewood in a dry place, ideally near the campfire pit.
String a clothesline between two trees where you can hang wet clothes to dry.
Observe your campground's rules – usually posted near the campground entrance.
Campfire Safety
Whether you're cooking, warming up, or just sitting and enjoying the crackle and glow, campfire safety is a must. Here's what to consider:
If there is an existing fire pit, use it. If not, gather several large rocks and form a circle on a piece of clear, flat ground to create your own fire ring.
Be sure your fire will be well away from your tent, overhanging tree branches and other fire hazards.
Before you light your fire, be prepared to extinguish it later – have a bucket of water at hand. Never leave a fire unattended.
Keep your fire small – it will be easier to contain and faster to extinguish.
Burn dry, seasoned wood. "Green" wood is hard to light and creates harsh smoke.
Burn wood only. Printed-paper or other materials can release toxins when burned.
Purchase firewood from the specific area you're visiting. Transporting firewood can spread insects or diseases to new locations and damage the environment.
Before leaving your campsite, ensure your fire is completely extinguished by pouring water over the pit.
Follow all park/campground restrictions.
Easy Mealtimes
Choose a location at your campsite where you will cook and eat. Your camp stove should be placed away from your tent, branches and other flammables. It should be on a sturdy surface, sheltered from the wind with room to cook.
Plan your menu to reduce the number of pans you need.
Use lids – it will help meals cook faster and keep foods warm longer.
Cover your cooking area with a tarp at night to help protect it from heavy dew or rain.
Store food in your car at night, as well as any trash. Do not discard biodegradable items in the woods – they will attract unwanted insects and animals.
Bring garbage bags specifically designated for recycling or regular waste.
Packing Up
Leave your site as you found it – or better!
Pick up all your trash and consider expanding your efforts to a nearby area, lake or creek. It's a great way to show your kids how to conserve the outdoors and protect the environment.
Pack up properly to protect your gear
Clean and dry camping gear as you pack up.
Check your tent's storage pouches before taking it down.
Prevent tent mildew and rotting by airing it out at home before storing it.
Roll and store your sleeping bag in its storage bag properly to prevent creases and cold spots.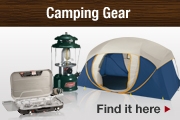 Related Buying Guides
Related Tools