Car Safety Useful Links

Road Safety Considerations
Blowouts
Blowouts may be what people most associate with getting a flat tire—a tire suddenly bursts with a bang and loses all air pressure. You might expect that blowouts are caused by too much internal pressure, but they usually result from exactly the opposite: inadequate tire inflation. When a tire is underinflated, the tire will flex beyond its intended limits. As a result, the rubber heats up, softening the bonds with the fabric and steel of the tire, and ultimately bursting.
Overloading your vehicle, or having a sudden impact, large cut or slow leak can trigger a blowout. Advances in auto tire technology have made blown tires less common, but it's important to know how to react in the seconds after your tire blows so you can maintain control of your vehicle and steer to a safe roadside location. Some driver's instincts to brake and steer to the side of the road as quickly as possible may in fact make it more difficult to maintain control of the vehicle.
Whether you are driving a sports car, SUV or light truck, the steps for handling a vehicle with a blowout are the same. If you experience a blowout:
Tires On Demand
In addition to our assortment of regularly-stocked tires, we carry brand name tires by Michelin, Goodyear, BFGoodrich, Uniroyal and Dunlop. Whether you drive a car, light truck or SUV in city, highway or off-road conditions, we can get the tire you need without delay. Start by browsing through our vast selection on our website.
Once you find the tires you want, simply call or visit your nearest Canadian Tire Auto Service Centre. Our Service Associates will pla
You'll have peace of mind, knowing your tires are covered by our coast-to-coast Customer Care Program. For even greater comfort, ask about our Protection Plan PLUS.
Price Match Guarantee
The Canadian Tire Price Match Guarantee:
If you can find the exact same tire at a lower price at another retailer, Canadian Tire will match that price and give you an additional 10% in Canadian Tire 'Money'™.
Tire Registration & Recall
Register your tires, and stay safe
When you buy new tires, you'll receive an invoice, warranty brochure and tire registration forms. Be sure to take the time to register your tires—it only takes a few moments.
Tire registration makes it possible for the manufacturer to contact you directly in the event of a safety-related recall. Tire recalls are becoming less and less likely thanks to constantly evolving tire engineering and manufacturing methods. But it's comforting to know that you can be contacted should any issue arise.
TIP: When you buy your tires, be sure to retain the original receipt and any warranty documents you receive. These will be required if a warranty claim needs to be made.
Tire Warranty & Protection Plan Plus
Canadian Tire Warranty Information
Canadian Tire offers a limited warranty on all the passenger and light truck tires we sell. This warranty covers Road Hazard Damage and Manufacturing Defects for the life of your tire's original useable tread or five years from the date of purchase, whichever comes first.
Key Warranty Definitions:
Road Hazard Damage - Caused by debris or hazards on the road and includes cuts or punctures, run flats or impact brake.
Manufacturing Defects - Includes workmanship or material defects that originate during the tire manufacturing process. Manufacturing defects are covered for all passenger or light truck tires purchased and installed or purchased over-the-counter at Canadian Tire.
Usable Tread and Pro-Rated Price Delimitations
Usable tread - The original tread worn down to the level of the tread wear indicators, which is 2/32" of tread remaining.
Pro-Rated Price - If your tire is not eligible for repair or replacement under warranty, you may be eligible for replacement at a Pro-Rated Price where you only pay for the amount of the tread used above the 2/32" tread wear indicators. For example:

If a new tire has a tread depth of 11/32", the usable tread is 9/32" (11/32" less 2/32").
If the tread depth at the time the tire is presented for adjustment under warranty is 8/32" the usable tread remaining is 6/32" (8/32" less 2/32").
One third of the tread depth has been used, so the replacement cost will be 33% of the current regular everyday price.
Protection Plan PLUS
Protect yourself from unexpected problems and the costs of tire replacement by purchasing Protection Plan PLUS for tires. If one of your tires is damaged due to accidental road hazard or manufacturing defect and cannot be repaired, Canadian Tire will replace it at no charge.
We've got you covered from coast to coast!
Once you purchase Protection Plan PLUS for tires, you'll have peace of mind knowing that everything will be taken care of by your Canadian Tire service team whenever you need it. Speak with a Sales Associate to learn more about Protection Plan PLUS when buying your new tires.
About Mileage Rating
Mileage Rating can be a helpful guide when making a tire choice but this is not related to Protection Plan and Protection Plan Plus. The mileage rating identifies what you can expect from tires when you maintain them according to the manufacturer's recommendations, including:
Inflation pressures have been maintained
Rotations have been performed as scheduled
Please note that Canadian Tire's warranty is based on actual tire wear and date of tire purchase—not Mileage Rating.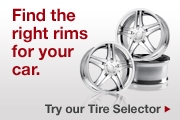 Related Buying Guides
Auto Service