Dog Care Guide

Having a dog can be incredibly rewarding, but it comes with responsibility. It's up to you to ensure all your dog's needs are cared for, from food and exercise to entertainment and taking care of their "business". In return for your care and attention, your dog will reward you with boundless affection and loyalty.
This dog care guide provides you with an overview of all you'll need to create a welcoming home for your best furry friend. It reviews things to consider when feeding your dog, including special diets and the importance of dog treats. It also provides helpful tips on what can be one of the most challenging times in raising your dog: house training your puppy, including crate training and pad training.
Create a Welcoming Home
Dogs have the same needs we do—sleep, food, activity—and though it may seem your dog wants you to believe it's fine eating your food, sitting on your furniture and chewing on your running shoes, having the right amenities will keep your dog comfortable, healthy and out of trouble. Here are the things you will want to consider for your Fido-friendly home.
Dog Grooming Checklist
Feeding your Dog
Your dog's diet is one of the biggest contributors to its overall health. The best way to ensure your dog is eating a proper diet is to feed it a balanced dog food, and to be selective about feeding any table scraps. Some everyday foods, like chocolate and grapes, can even be toxic to dogs.
How your dog eats is also important. There's no best time to feed your dog, but setting up a consistent time and routine will help avoid digestive upset or accidents in the house.
Consult the chart on your dog food package to determine the right amount to serve, and measure each meal to make sure you are not overfeeding. Remember, keeping your dog lean and trim can help him live a longer, healthier life. Just like people, dogs' metabolisms can differ, so if your dog is gaining or losing weight, adjust your feeding to keep your dog at his ideal body condition. Your vet can help you to determine what this should be for your dog.
Remember, hydration is crucial for many body systems, and is essential to support health and well-being. Be sure to have a constant supply of fresh, clean water available to your dog at all times.
Special Feeding Needs
The right nutritional balance for your dog will depend on its size, weight and stage of development. Consider the following when selecting a food for your dog.
Housetraining your Dog
As your puppy becomes part of the family, there are a few important things he'll need to learn. Pad training will teach your puppy an appropriate place to go to the washroom when he can't make it outside. Crate training will teach your puppy he has a place of his very own where he can always feel safe and secure.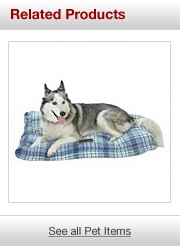 Related Buying Guides