Garden Centre Small Spaces

Refuse to be limited by your garden size. Container gardens are ideal for small spaces like decks, balconies and patios — they allow you to add colour and texture anywhere — to garden without a garden. Don't be afraid to mix annuals, perennials, nursery and edibles to broaden the container garden experience.

Vines, hanging plants, columnar trees and other narrow varieties of plants create vertical interest in your garden and can create privacy. Whether you are planting in a container or in the ground, vertical gardening really maximizes your small space.

Get everything you need to ensure success:
Containers, Soil and Plant Food, Mulch, Gloves, Pruners, Watering Cans, and more.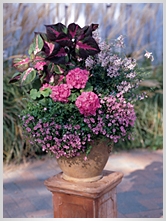 Container Gardening Success:
Choose a planter with good drainage and of the right scale for the space and the plants.
Use a quality container mix (often soilless).
Choose your mix of plants for the style you are after, but ensure they prefer similar light
and water. Allow space for growth and air movement
Use a transplant fertilizer, and then mulch the top if there is a lot of surface.
Water well, allowing excess water to drain away.

Print out this handy checklist and take it with you to the garden centre

Did You Know?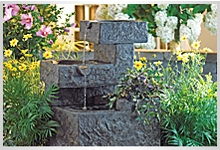 A water feature in the garden can help mask city noise.
See all Garden Fountains