Grass Trimmer Buying Guide
Grass trimmers, sometimes called string trimmers or whipper snippers, are an essential tool for making your lawn and garden look its very best by trimming areas your lawn mower cannot reach. Choosing the right trimmer will make it easy to give your yard a flawless finish.
This guide explains the difference that power source makes in your grass trimmer's performance. You'll learn what to look for when comparing trimmers and the features that can make your job easier. We've also included tips on using and maintaining your trimmer for beautiful results.
Grass Trimmer Power
Today you can find Gas, Electric and Rechargable Cordless grass trimmers. Each power source has its own benefits and considerations.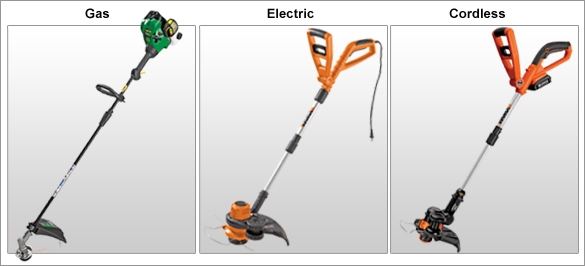 Gas - These heavy-duty units are good for large properties or cutting through heavy and thick grass or weeds. They are more versatile than an electric trimmer, especially if they are attachment capable, but they tend to be somewhat heavier and nosier. Gas units require regular maintenance, which includes replacing air filters and spark plugs.
Electric - These grass trimmers are lighter and start with the push of a button. They are generally less noisy and less expensive than gas models, don't require refuelling, and require little to no maintenance. Electric grass trimmers require an extension cord and access to an electrical outlet, which can make trimming a little more awkward.
Rechargable Cordless - Without any cords to manage while trimming, these models are light, easy to operate and highly portable. Cordless grass trimmers are the most quiet of the three types and, like electric trimmers, are easy to start and do not require a lot of maintenance. However, these units are typically not as powerful as the gas or electric models and you will need to recharge the battery. To avoid waiting for your battery to recharge, it's helpful to purchase an additional battery to keep charged and ready.
Comparing Grass Trimmers
There are several features to consider when selecting a grass trimmer. Knowing the terms and what they mean will help you compare models, and decide which features you can benefit most from.
Shafts

Grass trimmers can be equipped with curved or straight shafts.
Curved shafts offer better balance, and are easier to handle and lighter weight - ideal for trimming along sidewalks, driveways or gardens.
Straight shafts are generally longer and are designed to be good at getting into hard to reach places like under decks, fences or bushes.
The larger the trimmer shaft's diameter, the more sturdy and durable the trimmer. Split shafts may allow you to use additional attachments, including TrimmerPlus® accessories such as a garden cultivator, hedge trimmer, tree pruner or leaf blower.
Grass Trimming Tips
Following these steps will help ensure trouble-free grass trimming all season long:
Always wear safety goggles to protect your eyes from flying debris. Gloves, long pants and ear protection are also strongly recommended.
Always cut off about 1/3 or less of the total length of the grass.
The average lawn height should be approximately 1-1/2" to 2" (4-5 cm) during cooler months, and from 2" to 3-3/4"
(5-9 cm) during hotter months.
If you notice your grass has a grayish or brownish hue after cutting, advance the cutting line to ensure the sharpest line used while trimming.
Keep your grass trimmer well maintained for safe and effective operation.
Maintaining your Grass Trimmer
For electric grass trimmers, maintenance is as simple as keeping the trimming head clear and free of debris and dirt, and changing trimming line as needed. Gas and cordless models require a little more attention to stay in peak operating condition.
For Gas Models:
Use fresh gas throughout the season.
Change the spark plug and the oil at the start of every seaso.
Replace the air filter every 90 days.
Before storing for the season, empty the gas tank, disconnect the spark plug and clean the exterior with water and dish soap.
For Rechargeable Models:
Wait approximately 15 minutes before recharging a warm battery.
A fully discharged battery will require about 1-5 hours to fully charge.
Store batteries in a fully charged state.

Related Buying Guides