Pressure Washers Buying Guide
Water Pressure washers are great for removing dirt, grime and grease from hundreds of items, keeping the things you own looking their best. These units deliver up to 75 times more pressure than an ordinary garden hose while using up to 80% less water, saving you time, effort and money.
This guide covers the basics you'll want to consider when choosing a pressure washer. You'll learn how to compare pressure washers by their specifications, and you'll learn more about their features and accessories to get the most from your pressure washer.
The Basics
Your starting point for choosing a pressure washer is thinking about how and where you'll use it. You'll want to consider how you'll be powering it, and the types of projects you'll use it for.
Gas or Electric?
Gas powered pressure washers generally offer higher pressure than electric washers, making them ideal for medium to heavy-duty jobs. They can also offer greater versatility: because you are not tied to a nearby outlet, they can be used virtually anywhere outdoors.
Electric pressure washers are compact, lightweight and convenient. While you do need an electrical outlet and an extension cord, electric washers don't require oil changes and you'll never need to stop to refuel. They are ideally suited for small- to medium-sized cleaning projects.
Comparing Pressure Washer Specifications
There are several specifications used to describe pressure washers performance, power and pump systems. Understanding these terms will help you compare different systems.
Performance: PSI, GPM and CU
There are three values that are used to compare the performance of pressure washers
PSI - The pounds per square inch of water pressure created by the pump. This is the pressure the washer uses to penetrate dirt and grime. Increasing the PSI will increase your cleaning power.
GPM - The gallons per minute, or volume, of water delivered through the spray gun. The higher your GPM, the more water you'll use to break down dirt and wash it away.
CU - Cleaning units is calculated by the pressure washer's combined PSI and GPM. It is the most accurate way of measuring the total cleaning speed and power of a pressure washer. The higher the CU, the greater the variety of items you can clean and the more time you save.
Power: Engines & Motors
There are different terms used to describe the power level of pressure washers, depending on their power source. Gas-powered pressure washers have engines, while electric pressure washers have motors.
Engine power is measured by torque, the rotational force that drives the pump, and CC (cubic centimetres), the relative size of the engine. The higher your torque and CCs, the more powerful your engine. Briggs & Stratton® and Honda® 4-stroke engines are both from world-leading engine manufacturers recognized for their reliability and performance. These engines are easy to start, have a long life and give you the power you need to get the job done right.
Motor output is measured in wattage or amperage; the higher the number, the more energy that is driving the pump. Universal motors are lightweight, providing increased portability while delivering reliable power, and are best-suited for light- to medium-duty projects. Induction motors are low maintenance and efficient to deliver the power to tackle most cleaning jobs.
Pump Systems
The pump is the driving force inside your pressure washer. Generally there are three types of pumps that are used for power washers.
Indirect drive pumps use a simple design to deliver consistent performance.
Axial cam pumps with Easy Start™ technology provide smooth starting and are maintenance-free.
Heavy-duty axial cam pumps offer greater durability and performance for frequent or heavy use.
Pressure Washer Features and Accessories
Your pressure washer's detergent handling, nozzles, storage and accessories will make a big impact on how easy, convenient and effective your pressure washer is to use.
Detergent Systems and Detergent
Detergent injection tube - To apply detergent during low-pressure spraying, just drop the siphon tube into your container of pressure washer detergent. No measuring or pouring required!
Single on-board detergent tank - An on-board tank lets you fill your washer with the pressure washer-safe detergent you'll use during low-pressure washing. Very convenient if you'll be moving your washer around while cleaning.
Dual on-board detergent tanks with selection dial - Carry and store two types of detergent simultaneously on board your pressure washer. The selection dial lets you easily switch from one detergent type to the next without stopping.
Pressure washer detergents - These help increase your pressure washer performance by breaking up dirt, grime, mildew and stains for faster, more effective cleaning. All pressure washers sold at Canadian Tire are equipped to use detergents.
Pressure Washer Accessories
Canadian Tire has a wide selection of accessories that will help you use and maintain your pressure washer. As your machine gets older, parts may wear, or if the machine is not stored properly over the winter, parts may break. If this happens, you can visit your local Canadian Tire store to get the replacement parts you need for your pressure washer...
TIP: In addition to oil changes, winterizing is often overlooked in maintenance. Even if you empty the water out of your pressure washer, trapped condensation may be enough to cause expensive damage to your machine. Pump Saver™ antifreeze will protect your pressure washer pump from freezing and help ensure that your pressure washer will be ready-to-go when you need it for your Spring clean-up projects.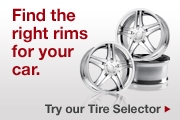 Related Buying Guides
Auto Service