Screen House & Shelter Buying Guide
Your screen house or shelter can create an oasis to enjoy summer breezes with a little protection from Mother Nature and her friends. Here's a guide to the key features to look at when choosing a screen house or shelter.
Why Do I Need Shelter?
A screen house can protect you from mosquitoes, deerflies or other annoying bugs, but it may not be the best choice if you're looking for a place to escape from the sun's rays. A gazebo tent or shelter may offer sun and UV protection as well as a refuge from the occasional rain shower, but it may not provide any relief from spring and summer's biting insects.
When and Where Will I Use It?
Screen houses and screen tent shelters are portable to take camping, but can also provide the same relief from sun and insects while picnicking at the park or in your own backyard.
If you're camping, a screen house's mesh walls can offer a welcome escape from mosquitoes and no-see-ums, without having to duck into your tent or cabin.
If bugs haven't been a problem for you, but your campsite has few trees and little shade, consider getting a shelter. It will provide you with a place out of the sun's harsh rays as well as somewhere to escape the rain.
Once you've determined why you want a screen house or shelter, consider the following features to help you narrow your choices from the wide selection you'll find at Canadian Tire.
Screen House Features
Size – When comparing sizes, multiply the length by the width to calculate the square footage – but also consider height. If you plan on using your screen house around a picnic table, make sure you choose a size large enough to fit both the picnic table and the people sitting at it.
Mesh - Some mesh walls are finer than others. No-see-um mesh walls can protect you from the smallest of insects.
Ease of set-up – Some screen houses have an integrated hub and pole system, like the Broadstone Easy-Up system, that does not require you to assemble the poles. Just unfold the screen house, lift the centre hub and lock the integrated poles in place.
Lighting systems – A built-in lighting system provides area lighting at night with the benefit of being up and out of the way.
Awnings - The advantage of optional awnings is that they can be rolled down to close-in the screen house, or extended to provide additional shade coverage.
Shelter and Gazebo Features
Size – When comparing sizes, multiply the length by the width to calculate the square footage – but also consider height. Some gazebos have multi-position legs to adjust the height and also compensate for uneven ground.
Straight leg or slanted leg – A slanted leg shelter will be more stable in stiff breezes, but will also take up a larger footprint than a straight leg gazebo. The sloping sides may mean that the space you can easily use is a little smaller than the actual square footage covered.
UV protection – Some shelters offer a UV treated or aluminized roof to reflect the heat and the sun's damaging UV rays.
Ease of set–up – Some portable gazebos have a folding frame that expands easily for quick setup, while others require you to assemble the poles.
Wind Walls or Screen Walls – Some shelters have a detachable and movable wall. This can provide shade, privacy or wind protection. Other units have clip-in screen walls to convert the gazebo to a screen house for bug protection.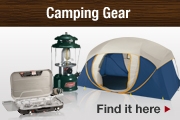 Related Buying Guides
Related Tools