Tires Buying Guide
Tire & Sidewall Information
Tire Tread - The flat area of the tire that contacts the road surface. A tire's tread construction determines the adhesion characteristics of the tire in all driving conditions.
Tire Bead - The narrow band that anchors the tire to the rim and maintains a leak-free seal. This area transmits acceleration, turning, braking and all other forces between the vehicle and the road.
Tire Sidewall - The vertical portion of the tire that extends from the road surface to the bead. Sidewall construction and depth affects the ride and handling of the tire. A narrow, stiff sidewall offers more responsive steering, but a deep, supple sidewall will flex to provide a smoother ride.
Tire Shoulder - The curved region where the vertical sidewall of the tire meets the horizontal tread.
Tire Sidewall Information
On the sidewall of every tire, there's a great deal of information that identifies its construction and capabilities.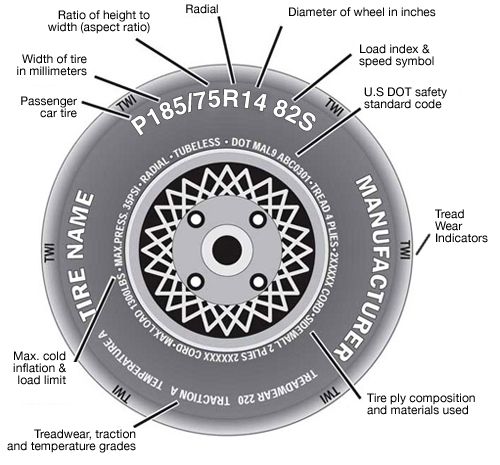 Details on The Tire Size
The tire size branded on the sidewall provides a significant amount of information about the tire's intended purpose, dimensions, load capacity and high temperature/high speed durability.
Our primary example will be based on variations of P185/75R14 82S, although other sizes will appear where appropriate.
Load Index & Tire Speed Ratings
Following the tire and wheel diameter, two numbers and a letter indicate the Load Index and Tire Speed Ratings, also known as its Service Description.
P185/75R14 82S
82 indicates the Load Index and S indicates the Speed Rating.
Load Index
P185/75R14 82S - The load index (82 in this example) indicates the tire's relative load carrying capabilities. The numbers correspond to a set index, with higher numbers indicating the ability to carry a heavier load. Our example, 82, indicates the tire can carry about 475 kg (1,047 lbs.)
Load Range & Ply Rating Identification
Tires are engineered to withstand a maximum load and inflation pressure. These maximums for tires are branded on the sidewall of all tires sold in North America. Passenger vehicles specify the load ranges while light trucks use letter-indicated load ranges that ascend in alphabetical order.
Prior to using load ranges, ply ratings were used, indicating the relative strength of tires by identifying the actual number of plies used in the tire's construction. Because tire construction has changed over the years, load ratings were developed to indicate the equivalent strength as compared to early bias ply tires.
About Tire Tread
Tire Tread Patterns
Tire tread design consists of the blocks, ribs, grooves, and thin snipes molded into the tire. These designs incorporate features to fine-tune noise, direct moisture, and provide all-important traction for your vehicle. Several basic designs help meet the conditions you'll face on the road.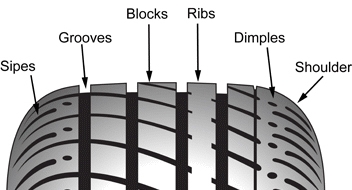 Original Equipment
When developing tires, vehicle manufacturers will ensure the tires they use provide what they feel is the best driving and handling experience for their vehicles.
Tires contribute enormously to the feel of a vehicle—its ride, handling and performance. Vehicle manufacturers understand this, and so select tires which will provide a smooth ride, responsive handling, or sporty performance, depending on the driving profile they are creating for their vehicles.
Manufacturers must play a balancing act in an effort to determine the ideal blend of features and performance to provide optimal results on the road. The OE tires for fuel efficient vehicles will be engineered for increased efficiency while OE tires for sports vehicles will focus on handling and performance.
While technology continues to increase capabilities on all these facets, the "best" tires will always be a compromise. This is because one set of attributes can be directly opposed to another set of attributes. For example, a tread that increases traction will reduce rolling resistance and efficiency. A stiff sidewall that improves handling responsiveness will reduce the smoothness of ride.
Tire Ratings and Comparisons:
Uniform Tire Quality Grading (UTQG)
Uniform Tire Quality Grade (UTQG) standards were developed to equip consumers with information to compare tires based on relative treadwear, traction and temperature capabilities. These gradings are used mostly for all season tires for passenger vehicles. They are not required for deep treaded light truck tires, winter tires, temporary spare tires, and other select tires.
The UTQG ratings are assigned by the tire manufacturers based on their test results or those conducted by an independent testing company they have hired.
Breaking in Your New Car Tires
Your car will handle differently after installing new tires. When you buy car tires, take the time to get a feel for the change in your vehicle's traction and handling.
At the end of their use, your old tires will have much less tire depth than your new tires. This means the amount of tread surface in contact with the pavement was larger before buying new tires, resulting in greater responsiveness on dry roads, and poorer traction on wet roads. Depending on road conditions, your new tires may feel slower to respond, even if you had the same model of tires previously.
Tires are constructed from several layers of rubber, steel and fabric that require a break-in period before they reach maximum performance. To give these components time to fully integrate, for your first few hundred kilometres avoid any aggressive driving—stick with easy acceleration, cornering and braking.
New tires may also have a mold release lubricant on them as a residue from the production process. You should be aware your vehicle might initially have reduced traction before this thin layer is worn away from regular driving.
Tires & Fuel Economy
Tires can impact your vehicle's fuel efficiency in many ways. While some factors can increase fuel efficiency, other factors can actually result in less than accurate calculations.
Most vehicle manufacturers provide low rolling resistance tires as Original Equipment. Rolling resistance is the force required to maintain the forward motion of a tire in a straight line at a constant speed.
Tire Storage
Properly storing your tires between seasons can make a big difference in the life of your tires. Following a few simple tips will make winter tire storage easier, and will protect your investment. Plus remember, your tire quality directly affects your safety. Store your tires properly, and save the cost and inconvenience of replacing your tires sooner due to unnecessary wear or damage.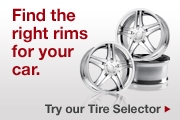 Related Buying Guides
Auto Service