Winter Tires Buying Guide
Winter tires are one of the best ways to say safe while driving in freezing weather. In fact in 2008, Quebec became the first province to legally require the use of winter tires during the winter months. Not just for snowy roads, winter tires use special compounds to improve your traction, stopping and handling whenever the thermometer dips below 7°C/45°F.
This comprehensive guide gives you detailed information on what to consider before you buy winter tires, and how to maintain your snow tires for your winter driving safety.
Before You Buy – Choosing New Winter Tires
Who Needs Winter Tires?
If you regularly encounter ice, unplowed snow, or slush—or if you drive in temperatures that regularly dip below 7°C/45°F—you can benefit from winter tires, also known as "snow tires".
Regular all season tires lose elasticity when the temperature dips below 7°C/45°F. Winter tires are constructed with a special compound that allows them to retain more elasticity in cold temperatures. Technologically engineered tread designs prevent snow build-up and improve ice and snow traction more than ever before—so you get a better grip on the road and better control of your vehicle.
Winter tires provide better control for all vehicles—even 4WD vehicles—on snow and ice-covered roads. Whether you drive a car, SUV, pick-up or light truck, you'll find four winter tires help you get a better grip on the road in difficult driving conditions. Without winter tires you are more likely to fishtail on corners and spin out on that icy hill.
The numbers support the benefits of snow tires:
How to Select the Best Winter Tire
It's important to understand the difference in snow traction between Mud and Snow branded tires and winter tires or severe snow tires.
The Mud and Snow(M+S or M&S) designation you will see on many all season tires refers only to the tread pattern itself—not the performance of the tire on snowy roads. M+S tires have a "knobby" design with gaps between the treads designed to provide improved traction over the straight rib tires used on earlier vehicles.
In 1999, The U.S. Rubber Manufacturers Association (RMA) and the Rubber Association of Canada (RAC) agreed on a performance based standard for identifying tires that have been tested to perform better on snowy roads. Severe Snow Tires are specifically designed for severe snow conditions and meet snow traction performance requirements. Tires meeting this standard are marked with a pictograph of a peaked mountain.
A mountain/snowflake symbol branded on the tire's sidewall identifies tires that perform a minimum of 110% better than a standard tire in a mandated snow traction test. Many winter tires achieve levels of 130-150% better, which provides drivers with significantly shorter stopping distance and better handling.
The mountain/snowflake symbol is the standard specified in Quebec for meeting winter driving requirements. While dedicated winter tires bearing the mountain/snowflake symbol are available in sizes for most passenger cars and minivans, there is a much larger range of tire sizes and load ranges used on crossover vehicles, SUVs, pickup trucks and full size vans. As a result, Quebec has temporarily expanded its definition of acceptable tires in order to implement this law. Starting December 15, 2014, the Highway Safety Code regulation specifies only tires bearing the mountain/snowflake symbol will be considered acceptable winter/snow tires in Quebec.
The Importance of Winter Rims
While it's possible to have only one set of rims for your vehicle, purchasing separate rims for your winter tires can be a smart, economical choice that makes the seasonal switch quick and easy for years to come.
When you install your winter tires on their own set of rims, you only need to have your tires mounted once. Switching your tires for the season then requires little more than removing some wheel nuts and swapping out your tires.
Winter Tires Sizes
Many drivers select their summer tires to maximize performance, choosing sporty wide, low-profile tires. The same features that make these tires ideal for warm dry roads make them less than ideal in a few centimetres of snow. The narrower your tire, the more easily you can get through snow.
Select a winter tire size based on the optional tire and wheel size for the base model of your vehicle, or by "minus sizing" (effectively plus sizing but performed in reverse to select a narrower wheel). Not only will this help you select a wheel more suited to winter, but you may also find the cost of a tire and wheel package is lower than staying with your vehicle's original specifications.
What if My Car Has...?
Recent advancements have made great improvements in vehicle control and handling in all types of weather. While these electronic driver aids can prevent you from over-braking or overpowering the tire's traction, they are limited by the grip of the vehicle's tires. These systems don't improve traction—they just allow you to better utilise the traction your vehicle already has.
Winter Tires FAQ & Winter Driving Tips
When Should I Install My Winter Tires and Rims?
As soon as the temperature drops below 7°C, you should consider changing your winter tires in order to benefit from the increased traction, braking and handling they provide. Be sure to change your tires before it snows. For most people in Canada, this means you should prepare your car, pick-up or SUV for unexpected snowfalls by changing over to winter tires in October or early November.
Won't It Help If I Just Drive Slowly and Carefully?
You should always drive to road conditions, regardless of the tires you have on your vehicle. However, overcompensating for road conditions can also create a traffic hazard. If you aren't able to keep up with the flow of traffic as you accelerate from a traffic light or up a hill, you pose a risk to yourself and all of the other vehicles around you. Getting better grip and handling can reduce the sense of uncertainty you feel when bad weather hits. Improved traction from winter tires will give you a greater margin of control to avoid the unexpected—or dodge an accident.
Winter Tire Maintenance & Safety (Post-purchase)
Winter Driving
Winter Driving Safety Tips
Check your local weather forecast before driving to prevent getting caught in undesirable conditions.
Test your brakes and steering when first heading out on wet or snowy roads.
Watch for black ice, as well as unexpected ice on bridges, overpasses, and intersections.
Don't use cruise control in the winter.
Drive to weather conditions. Slow before corners or downhill slopes.
Give yourself extra braking room; do not follow other vehicles too closely.
For driving in excessive amounts of snow, you may need chains or studs for your tires. Studs are best suited for soft ice. Check with your local authorities about the legality of using such products.
Be sure your vehicle has an winter emergency kit and is prepared for winter weather. See our winter driving checklist for more details.
Winter Tire Maintenance
Maintenance Inspections
The distinctive tread patterns and softer rubbers used in winter tires make them more susceptible to irregular wear caused by a misaligned suspension or worn parts. The camber and toe settings, in particular, can influence tire wear.
Camber is the vertical tilt of your tires. A positive camber describes a tire whose top is tilting outward, and a negative camber tire tilts inward at the top. Improper camber settings can result in the outside or inside edges of your tires wearing unevenly.
Toe describes the angle of the tires at each end of the same axle, and the angle they are aligned to drive in. Toe-in tires are aligned to drive towards one another and Toe-out tires drive away from one another. These settings compensate for the competing forces of rolling resistance, drive torque and suspension movement.
Be sure your winter tires and wheels are set with your vehicle manufacturer's recommended settings for camber and toe. While your vehicle manufacturer may have preferred settings as well as tolerances for performance, only the vehicle's preferred settings should be used for aligning your winter tires.
For optimal handling and tire wear, it's wise to have your vehicle's alignment checked (and adjusted if necessary) twice a year. Your seasonal switch from winter to all season tires is an ideal time to do it.
Winter Tire Pressure
Underinflated tires can reduce your fuel efficiency. Maintaining proper air pressure in your tires is also key for handling, safety, traction and durability.
How to Store Winter Tires
Clean and wrap your snow tires before storing them for the season to protect them from debris and rubber degrading elements like ozone. Tires can be laid flat or stacked up to four high, but should not be placed tread-down as they may develop flat spots.
The best place to store tires is in a cool, dry location such as a basement or climate controlled workshop. The temperature fluctuations in sheds, garages or other un-insulated areas can accelerate aging. Stored tires should be kept away from electric motors or welders as these produce ozone which will damage the rubber over time.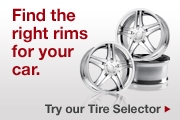 Related Buying Guides
Auto Service