Engine Health

What is the Ultimate Engine Health Service Package?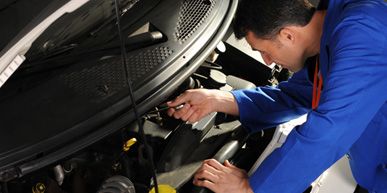 The Ultimate Engine Health Service Package is more than an oil change. Upgrade with a program that includes three intensive treatments that help prevent engine problems further down the road. Now, when you take your car into a Canadian Tire Service Centre, you can improve the overall performance and efficiency of your engine in the time it takes to get a standard oil change.
What's included:
Engine Health Kit
With a 3 step, 3 product process, cleaning and priming your engine has never been easier. It's the complete treatment for a better running engine.

Oil System Cleaner

A proprietary blend of solvents, detergents and despersant additives
Breaks down sludge and varnish deposits

Fuel System Cleaner

Fuel additive to remove and prevent fuel-related deposits throughout the fuel system
Improves driveability, power and performance

Engine Oil Cleaner

High Performance additive is used to:

improve oil viscosity
increase compression
improve piston ring seal
reduce oil consumption and smoke

Oil Change

Protects and extends engine life
Improves sealing, protects against burn off, increases cooling capacity
Neutralizes particles and deposits, preventing sludge build-up
Frequently Asked Questions
How long does the Ultimate Engine Health Service Package take and what does it include?

The package may add 5 to 10 minutes to an oil change. The package includes a regular oil change and 3 treatments designed to restore power, performance and protect the engine.

How often should I upgrade to the Ultimate Engine Health Service Package?

The package should be performed with the next oil change. Subsequent use of the kit is not required at every oil change interval. 1 or 2 times per year will suffice, or every 4 to 5 oil changes, depending on kilometres driven.

Can I still have the service performed if I use High Mileage / Synthetic oil?

Yes, it can be performed on gasoline-engine vehicles which use conventional, semi-synthetic or fully-synthetic oils.

Is my car too new for this service package to be performed?

By performing this service early in the life of the vehicle, as part of a regular maintenance program, performance will be maintained.

Will this help me save gas?

Ultimate Engine Health Service Package designed to help maintain the engine and fuel system at a near new performance level, which will help to achieve the maximum engine efficiency possible for your vehicle.

Will it harm my engine/fuel system and void the warranty?

The kit uses products which are Automobile Manufacturer Approved (AMA ) and will not void vehicle warranty. As long as the product use directions are followed, and proper mechanical techniques are used, there is no risk of damage.

Why do I need to have an oil change at the same time?

The Cyclo Engine Treatments package is an upgrade to a regular oil and filter change, and will provide additional benefits to the engine, over and above what an oil change and new oil filter will provide. The use of the Oil System Cleaner requires the oil to be drained in order to remove the sludge and varnish deposits along with the cleaner. The vehicle must not be driven with Oil System Cleaner in the oil.

Does my gas tank have to be full for the service to be completed? I have heard some products are harmful to the fuel system. How much fuel needs to be in the tank prior to adding?

The Fuel System Cleaner is a tried and proven product with no harmful side effects. Your gas tank does not have to be full.